Rockwood Ultra Lite Signature Fifth Wheels 8288SB
Wana RV Price: $64,100.00
Contact Us!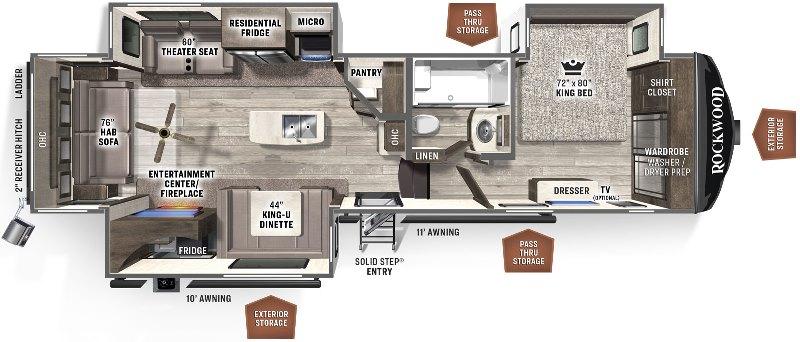 Model: 8288SB
Year: 2022
ID#: 2526
Length: 37' 0"
Dry Weight: 10531**
Dry Hitch Weight: 1699
Color: CHOCOLATE-NEWPORT ASH
In Stock?: Yes
Signature FW Standard Pkg A: Std
Complete Prep and Service of Unit: Std
LP Tank(s) Full of Gas: Std
Starter Kit: Std
12V Battery: Std
30 Day Temp Plates: Std
1 Hour Walk Through: Std
Click on MSRP/STICKER for Options on this Unit: Std
NOW AVAILABLE THIS ROCKWOOD 8288SB FIFTH WHEEL. Included in our sale price is a sewage hose, water hose, battery, filled L.P. tanks, toilet paper, chemicals, 30 day temporary plates. When sold, we go through the unit very carefully. We run the A/C and the furnace, we run all the appliances to make sure they all work. We run water through all the plumbing and try each faucet to make sure you have no water leaks. We even get up on the roof to make sure everything is sealed the way the manufacturer wants it. Buy from the Indiana RV Dealer who can save you $$$ We also have Financing available. Click on the RV Financing tab at the top of the page and fill out the form. Our finance people will match your best option to the correct bank for the best possible rate for you. You are not obligated to use this financing when filling out our form but we think we can save you money!

Signature Fifth Wheel Standard Package A - (Mandatory)
Tan High Gloss Fiberglass Exterior, Enclosed Underbelly with Thermostatically Controlled Heated Holding Tanks, Dexter Torflex Axles, Aluminum Wheels, Vacuum Laminated 1 Piece Roof & Walls, Quick Recovery Auto Ignite Gas/Electric Water Heater, Multizone Stereo with DVD/CD/AM/FM Stereo with Bluetooth Control, Day/Night Livingroom Roller Shades (Night Roller Shades in Bedroom, Solid Surface Kitchen Countertops, Hidden Hinge Cabinet Doors, Spare Tire/Carrier/Cover, 13.5K BTU Ducted A/C, Black Tank Flush, Roof Mount Solar Prep, Large Flat Screen TV, 2" Accessory Hitch, Fireplace, Frameless Windows, High Gloss Front Cap, Turning Point Rotating FW Pin Box, GoodYear Endurance Tires with Tire Pressure Monitoring System, Slam Latch Baggage Doors with Magnetic Door Holds, Shielded Awning with LED Light Strip, OneControl APP Control Monitor Panel, Soft Close Roller Bearing Drawers, 110V Ceiling Fan, 4.0 Auto Leveling System, 50AMP Service with 2nd A/C Prep, Rear Ladder, Gas Griddle, Shower Miser, Mor-Ryde Strut Assist, Key Alike Door & Compartment Locks
**Wana RV Center makes every effort to ensure all information contained within this website is correct. However, we are not responsible for any typographical errors, omissions, misprints, misinformation, or incorrect photos contained within or on a manufacturers website. Some photos may be "stock" photos from a previous unit and not of the actual unit in inventory. It is the responsibility of everyone to verify all details prior to purchase.**
Model: 8288SB
Year: 2022
ID#: 2526
Length: 37' 0"
Dry Weight: 10531**
Dry Hitch Weight: 1699
Color: CHOCOLATE-NEWPORT ASH
In Stock?: Yes
Signature FW Standard Pkg A: Std
Complete Prep and Service of Unit: Std
LP Tank(s) Full of Gas: Std
Starter Kit: Std
12V Battery: Std
30 Day Temp Plates: Std
1 Hour Walk Through: Std
Click on MSRP/STICKER for Options on this Unit: Std