Puma XLE Travel Trailers 27RBQC
Wana RV Price: $26,900.00
Contact Us!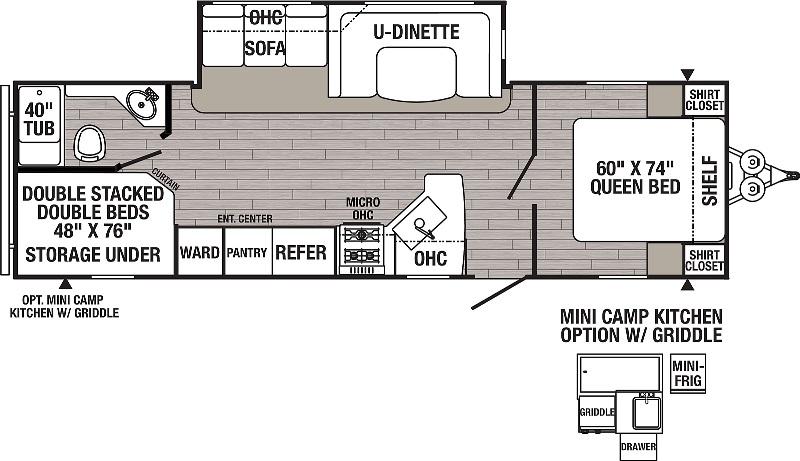 Model: 27RBQC
Year: 2022
ID#: 6772
Length: 33' 2"
Dry Weight: 6144**
Dry Hitch Weight: 687
Color: CAFE LATTE (Vinyl)
In Stock?: Yes
XLE Value Leader Package (Mandatory): Std
XLE Elite Package (Mandatory): Std
Complete Prep and Service of Unit: Std
LP Tank(s) Full of Gas: Std
Starter Kit: Std
12V Battery: Std
30 Day Temp Plates: Std
1 Hour Walk Through: Std
Click on MSRP/STICKER for Options on this Unit: Std
NOW AVAILABLE THIS PUMA XLE 27RBQC TRAVEL TRAILER BY PALOMINO. When sold, we go through the unit very carefully. We run the A/C and the furnace, we run all the appliances to make sure they all work. We run water through all the plumbing and try each faucet to make sure you have no water leaks. We even get up on the roof to make sure everything is sealed the way the manufacturer wants it. Also included in our sale price is a sewage hose, water hose, battery, filled L.P. tanks, toilet paper, chemicals, 30 day temporary plates and a 1 year limited warranty. Buy from the Indiana RV Dealer who can save you $$$ We also have Financing available.

XLE VALUE LEADER PACKAGE (MANDATORY)
Tub Surround, Bedspread w/Pillows, TV Antenna with Cable Hook-Up, Tinted Windows, Super Lub Axles, Front and Rear Stab Jacks, Beauflor Linoleum, Bathroom Skylight, LED Lighting, Bedroom TV Hook-up, WiFi Prep.
XLE ELITE PACKAGE
Electric Awning, Gas Oven, Stainless Steel Microwave, AM/FM Stereo, 2 Exterior Speakers, Outside Shower, Spare Tire, Front Diamond Plate,13.5K BTU Ducted A/C, 6 gal Gas/Electric Water Heater, Night Shades, Aluminum Solid Steps, 11 cu ft Refrigerator
**Wana RV Center makes every effort to ensure all information contained within this website is correct. However, we are not responsible for any typographical errors, omissions, misprints, misinformation, or incorrect photos contained within or on a manufacturers website. Some photos may be "stock" photos from a previous unit and not of the actual unit in inventory. It is the responsibility of everyone to verify all details prior to purchase.**
Model: 27RBQC
Year: 2022
ID#: 6772
Length: 33' 2"
Dry Weight: 6144**
Dry Hitch Weight: 687
Color: CAFE LATTE (Vinyl)
In Stock?: Yes
XLE Value Leader Package (Mandatory): Std
XLE Elite Package (Mandatory): Std
Complete Prep and Service of Unit: Std
LP Tank(s) Full of Gas: Std
Starter Kit: Std
12V Battery: Std
30 Day Temp Plates: Std
1 Hour Walk Through: Std
Click on MSRP/STICKER for Options on this Unit: Std